Upcoming Events
Group show ~ Call for Art This year's erotic art show will include images,stories, allegories and hints of Dragons.All 2D media will be considered for this annualgroup show that will hang Jan.15- Feb 29th.Reception TBA Please apply here BY JANUARY 8TH, 2024
More Info
Join us for another year of community events from the renowned Sierra Storytelling Festival to celebrations to honor and thank our members. We strive to provide programming that enhances our community life.
More Info
We'd love to have you join us!
Become a Member
For 35 years the North Columbia Schoolhouse Cultural Center has prospered and grown through the support of a dedicated membership. Members receive discounts on events, a quarterly newsletter, discounts on building rental, an invitation to the annual membership party, and the privilege of being part of a one-of-a-kind rural arts organization.
Sign up to Volunteer
With one part-time employee, the Schoolhouse depends on volunteer labor. We welcome help with events, mailings, baking, maintenance and workdays, office tasks, and many other jobs. Volunteering is a great opportunity to get involved in the community and meet new friends and neighbors. It's really a lot of fun! If you are interested, please sign up here.
Sierra Storytelling Festival
July 7-8, 2023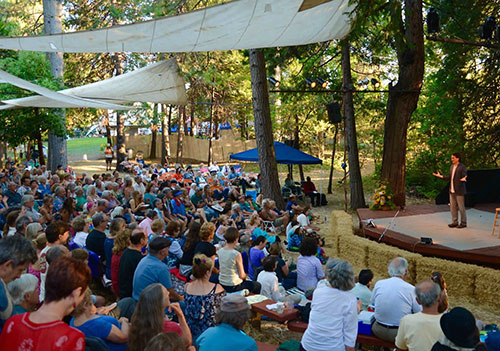 Storytellers are masters of many arts. They command the stage, like a Broadway actor; they orchestrate words into suspenseful tales like a bestselling author; and they are your favorite therapist who shares just what you need to hear.
The tellers at the 2023 Sierra Storytelling Festival are all such masters of their ancient craft. Comedians, musicians, authors, voice-over artists, teachers: they each bring the best of their skill to create unforgettable tales at the unforgettable Sierra Storytelling Festival.