Summer Stars Fest August 24th 5-11pm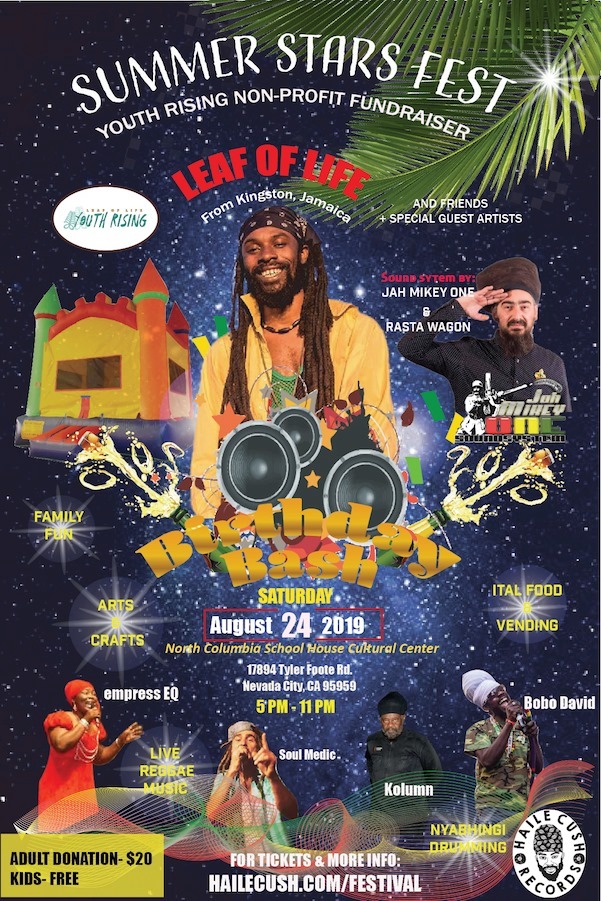 https://www.facebook.com/events/2153061984984284/
You + Party = Youth Rise
Leaf of Life started a non profit with a vision to help youth turn their dreams into reality! Leaf of Life YOUTH RISING works directly with underrepresented communities to support the development of youths skills, talents & arts.
Join us as we celebrate his birthday & raise funds for his non profit!
Building on the great success of the last event (Haile Selassie I & Empress Menen Coronation Celebration on the Ridge) we present a unique celebration bringing together a music, art & taste experience full of summer vibes!
$20 (& up donations)
– KIDS FREE –
All donations directly fund Leaf of Life YOUTH RISING non profit & are tax deductible
PLUS a special gift for you…presale ticket buyers receive 3 extra BONUSES just for buying tickets online now or at our local outlets (Briar Patch, Grass Valley CA). Click ticket button above to find out more.
REGGAE MUSIC – ITAL FOOD – NYABHINGI DRUMMING – VENDING – CRAFTS – FAMILY FRIENDLY FUN!
With live music from: LEAF OF LIFE – EMPRESS EQ – BOBO DAVID – SOUL MEDIC – KOLUMN & Special Guest Artists from Jamaica
Sound System by: JAH MIKEY ONE + RASTA WAGON
RETURN TO YOUR ROOTS:
The North Columbia School House Cultural Center offers lovely outdoor grounds to take in nature with the picturesque South Yuba River nearby. There is camping in the area, but not on site, so you can stay & fulljoy the river. Dogs are NOT allowed so please leave them home.
More festival info, past event pix, videos & more: HAILECUSH.COM/FESTIVAL
SPONSORS & PARTNERS:
CANNA GIRL
NORCAL STREET TEAM
WE NEED YOU
You can sponsor & partner with us with our different levels:
$50=Roots Partner/vendor (get your logo on our printed promo materials or reserve a space to vend)
$100=Culture Partner (get your logo on all online promotions & printed promo materials)
$75-$250=Power Partner (1 to 3 businesses are invited to be event sponsors for different areas, sponsor the: stage, kids area or smoking area . Your banner/promo material displayed or come up with a creative way to promote your business plus everything in Culture Partner)
$500=Gold Power Partner (Exclusive premium placement plus everything in Culture Partner)
Over $500=Super Gold Power Partner (contact us)
Volunteers are always needed & recieve free entrance into festival
You can confirm your partnership on the eventbrite site (ticket button at the top). We have traditional sponsorships, donations, vending & volunteering to partnerships where your creativity is the limit! Come bring a unique experience to our event that our guests are sure to remember.