Beaugina the Mezcal Mystic & starry-eyed Burlesque performers
Friday~ September 29, doors at 7, show at 7:30 pm
$25 at the door, Mother Truckers and Online Here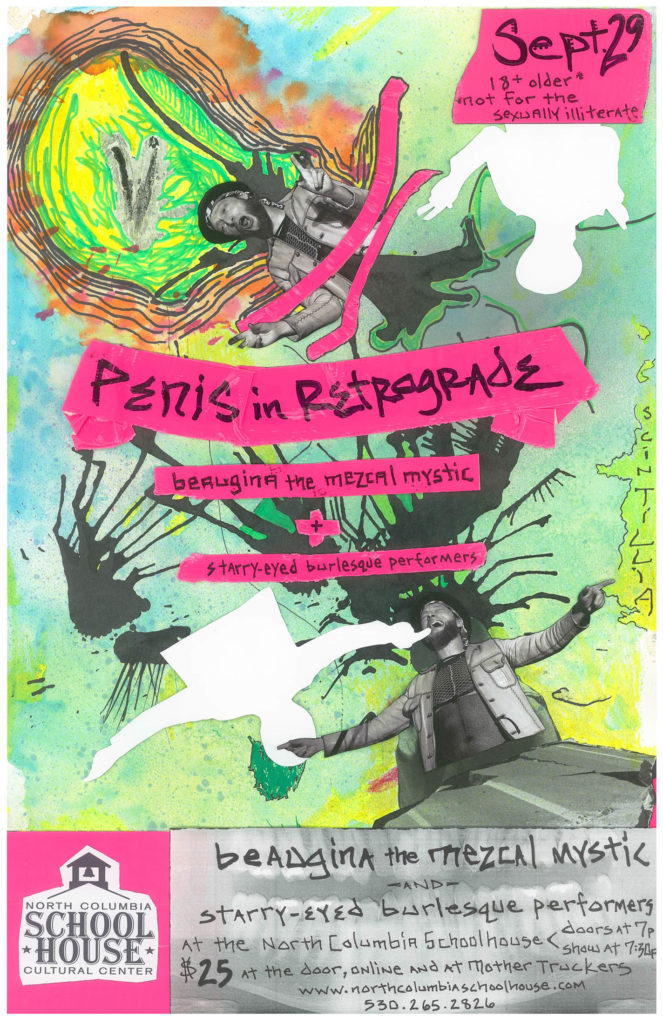 Beaugina's unique mix of stand-up comedy and spoken word style political satire is not to be missed, but for mature audiences only. Intermittent acts of burlesque will also be performed as we welcome back some of the performers from the Valentine's Erotique.
Winged jaguar chariots stuntin high notes over the low end disastrophy!! Wheee ~
Bio:
By fusing the ass pop elastic constellation of g-d's milky way with the hot wired turbine of fin whales, a psychedelic egg cracked over the foothills of the Missouri Ozarks and a wormhole cosmic-slopped over ridgeline tips and fertile valley crescents til collecting in a bioluminescent bunker of transcestral technology and skinfiltrating a beer can bungalow, SQUIRMAGEDDON eva after!! Beaugina the Mezcal Mystic slipped out the stockyards of heaven's gated community and put on something qweerly more revealing!
Birthquake. Marriage of Inconvenience. Screamsicles on cthulhu's bidet. Giggles in the night. Hide your private particles. It's raining scantily clad proud girls and show boys. Other Mudra bless the whole host of pagan angels hydroplaning the non-binary freeway. Get-a-f**k, give-a-f**k! I just wanna put a saddle on an assteroid and get into rear end collisions!! PENIS IN RETROGRAAAADE