Beaucoup Chapeaux, Tumble & a Visitation from the Land of The Dancers!
Come Celebrate Summer in the Amphitheater!
Saturday, June 19
6pm~ sunset

A Picnic & outside concert with Beaucoup Chapeaux
& Tumble
Plus Visitations from the Land of the Dancers
$18 general admission
The North Columbia Schoolhouse is excited to present a summer concert in the amphitheater on Saturday, June 19th starting at 6pm. We invite you to bring a picnic, listen to some music and dance in the new season!
Drinks & deserts will be available for purchase.
Tickets available at Mother Truckers and online !
Beaucoup Chapeaux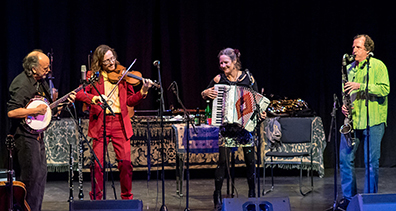 Band Description:
"Euro Jazz Balkan Beat"
"Astonishing Musical Juggernauts"
"Parisian Bistro, Italian Café and Circus"
"Dulcet and rocking and rhythmic voice!"
"Beaucoup Chapeaux has created a very magical niche with this music. It's a feel, an ambiance, something lovers can whisper behind and get up and dance to."
Beaucoup Chapeaux—French, loosely, for Many Hats— is comprised of multi-instrumentalists Maggie McKaig, Luke Wilson, Murray Campbell, and Randy McKean. We've been together for thirteen years, performed nearly 800 concerts of all sorts, who knows how many rehearsals, meals shared, miles traveled, always on a steady track to create great music and as much joy for our audiences as we possibly can.
Although certain band members are indeed partial to fine chapeaux, the term is strictly metaphorical here; referring not to hats, but to the music itself. Each of us play a variety of instruments in various groups covering different musical genres, which include Americana, classical, avant-garde classical, jazz, avant-garde jazz, folk, and pop. These influences run and dance and occasionally slow waltz through whatever we play, no matter where the music is from, be it Greece, Croatia, Albania, Romania, Macedonia, Serbia, Bulgaria, Russia, France, Italy, Spain, and North and South America.
Find out more about the band on FaceBook and Bandcamp!
Tumble
Tumble is a Northern California-based collective that includes Robert Heirendt on mbira, Rob Holland on bass, Sean Kerrigan on guitar, and Randy McKean on tenor saxophone and clarinets. Drawing inspiration from the groups Oregon, Codona, the Art Ensemble of Chicago, and musicians such as John Coltrane and Thomas Mapfumo, the quartet's intricate compositions combine folkish melodies and driving rhythms with an improvisational sensibility.
Sample their sound on Bandcamp!
or watch a vid: