Art Lives! Held over through September
Come see this show in September- Call to book a private showing 265~2826
An Art show examining Malakoff State Park and the surrounding Diggins
On display at the North Columbia Schoolhouse Cultural Center by appointment and online.
For a virtual tour click Here!
The ageless trill of birdsong, creaking timbers of a collapsing mine shack, sun-soaked strata of an ancient river — these are layers worth listening to. With ears and eyes open to stories and cycles beyond boom and bust, artists Molly Jochem and Kelly Sinclair engage Malakoff Diggins as a complex, living landscape.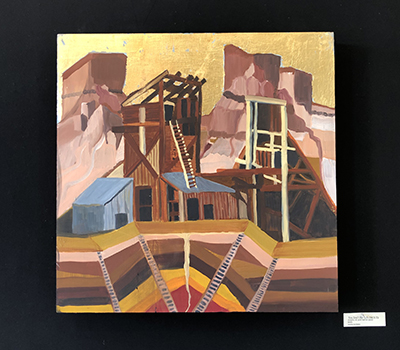 Molly grew up amongst the mine's crumbling clay pyramids and gravel piles, admiring their other-worldly quality and awed by their immensity. Hydraulic mining had blasted away the land, devastating the area's life forms and simultaneously creating one of the largest sculptures in history. There are many facets to the Diggins; many viewpoints evoking a myriad of emotions. Molly explores these dichotomies through the mine's dilapidated structures, which are both mirror and measuring stick of their environment.
Visit her webpage: molly jochem.com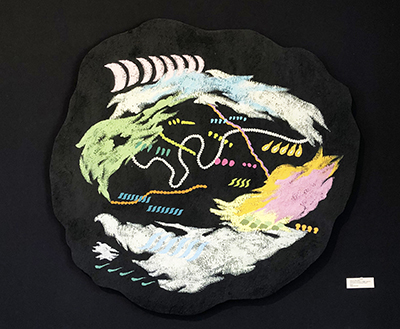 How does one draw what isn't there? Kelly Sinclair encounters Malakoff as a literal, metaphorical, and perceptual void — an earthen absence where not just land but native lives, lifeways, and ecosystems were extracted and disappeared. Using all of her senses, she listens with the mine and paints what she "sees" using a symbolic, synesthetic language of sound. Working with handmade charcoal, foraged pigment, reclaimed plywood and upcycled acrylics, her abstract paintings open portals to a vibrant and resilient living landscape. To see these paintings in their natural environment visit this link.
Visit her webpage: cargocollective.com/kellysinclair
The works in the exhibition unsettle colonial attitudes that maintain Gold Rush mythologies through the preservation of an extracted landscape and ethnocentric history frozen in time. Molly and Kelly's field-based paintings encounter the Diggins' as a place engaged in processes of decomposition and recomposition, decay and regeneration, erosion and re-growth. 'The DigginsAre Alive!' opens other ways into an extracted landscape, unearthing and acknowledging layers of life – indigenous Nisenan, native plants both surviving and lost, and animal communities, banished and returned – beneath the indelible scar gouged by the beginning stages of the global extractive economy.
The paintings and associated media of The Diggins Are Alive! will be on display at the North Columbia Schoolhouse Cultural Center with limited open hours or by appointment beginning July through SEPTEMBER 2020. Come join the conversation of 'The Diggins Are Alive!'
To make an appointment call (530) 265-2816 or email

[email protected]