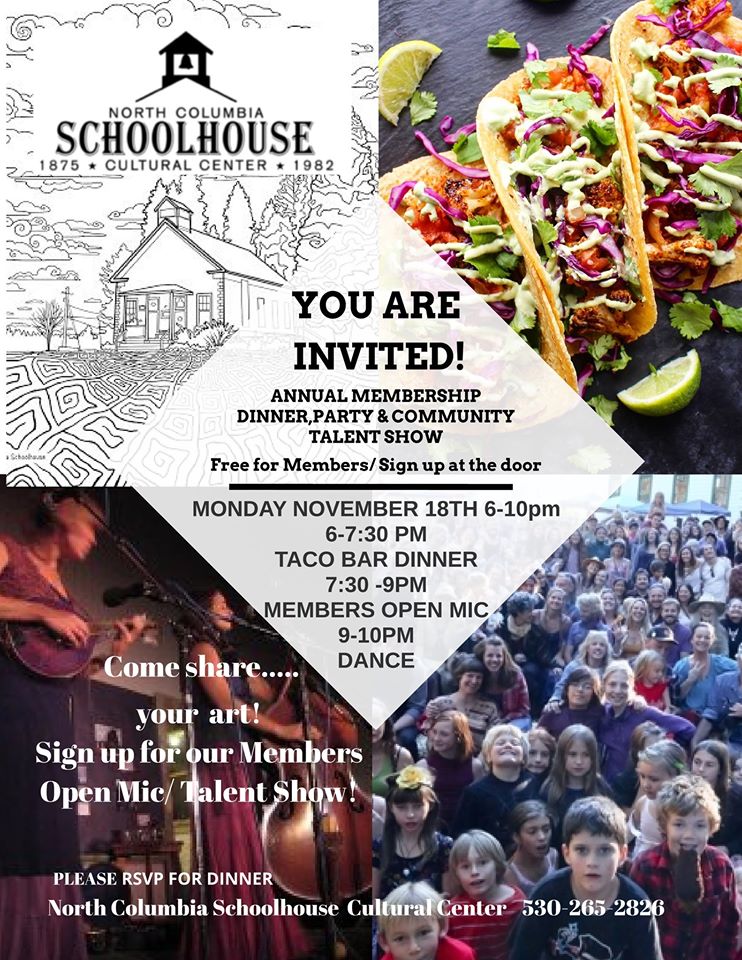 This year we are inviting our amazing community to come up on stage and share a song, a poem, a dance etc…
We want to celebrate how amazing our community is!
Please sign up ahead of time for our Open Mic and RSVP for dinner , if you can.
Call 530-265-2826
Membership has its privileges! To reward our loyal members for their dedicated support, we're throwing our annual party. This event is FREE for members and you may join or renew at the door.
This is the time of year when we CELEBRATE our community & your continued support.
THANK YOU!
Doors open at 6 pm we will have delicious food and great music!
We thank you for your AMAZING support.
We could not do it without you!

Since many of our members were not here at the beginning, it would seem to be a good time to review a little bit of history about the founding of the Cultural Center.
In 1972, the Cherokee Cooperative was formed by a group of local residents to serve the cultural and educational needs of the San Juan Ridge. The Cooperative also assisted in the organization of a volunteers program during the construction of the original Oak Tree School campus in the mid-1970s.
When the North Columbia Schoolhouse finally ceased operating as an actual school, Mary Joan Campbell approached two local architects, Bruce Boyd and Jeff Gold, about renting the building, and they led the effort to renovate the schoolhouse for its continuing use as a community center. In October 1979 the Cherokee Cooperative incorporated as Cherokee Labor Brigade Inc. and then successfully acquired 501(c)3 non-profit status in 1981 as it began to work on the renovation of the Schoolhouse as a cultural center. In February 1982, the Cherokee Labor Brigade officially amended its name to "North Columbia Schoolhouse Cultural Center". This is why we show "1982" on our logo even though the organization technically started earlier than that.
Come join us for an evening of celebration and giving to our historic community Schoolhouse & Cultural Center…come be part of the legacy!