20th Ridgestock Grand Finale Aug 16 & 17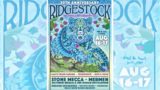 Join us in Celebrating 20 years for a TWO DAY Ridgestock with MORE music MORE workshops, MORE fun! Headlining this year is STONE MECCA, a funky and soulful band that brings a rocking motown psychedelia to get you dancing! Also featured is MATTHEW HUMAN & the Human Revolution, local and regional favorite. He'll be bringing his Costa vibe and a full band!
Visit http://www.ridgestock.org/ for more details.