The Debbie Dean Collection – Closing Reception | Friday, November 22, 2013
5 p.m. to 8 p.m.
No host bar.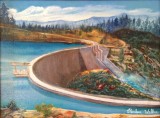 Since she arrived on the San Juan Ridge in 1974, Debbie Dean has been enthusiastically collecting artwork from the many skilled artists of our community. She recently realized that she had more work than she could properly display. In the spirit of giving and to ensure more folks may enjoy this work, Debbie has decided to donate part of her collection as a benefit for the North Columbia Schoolhouse Cultural Center.
Debbie gives thanks to the artists who created the work that she so appreciates and the Cultural Center gives thanks to her for making this generous donation. The exhibition includes rare works by deceased artists Peter Blue Cloud, Saria Farr and Charlene Welker; current artists Jennifer Rain, Aram Larsen, and Belle Star among many others; and by Debbie Dean herself. In some cases, Debbie has set a bid for the work to reflect the rareness of the piece; in other cases, she has set a bid to encourage folks to add the work to their own collection. This may appear unusual at first to the original artists, but please know that Debbie has deep affection for the artists and their work. She conceived of the show as a way to keep the creative spirit of the work flowing through our community.
All work will be available via silent auction through a Closing Reception on Friday, November 22 from 5 to 8 p.m. You may also view the show during normal office hours on Mondays and Wednesdays from 12 to 5 p.m., or by appointment by calling (530) 265-2826.