Syrian Refugee Crisis – Free Event | Sunday, October 6, 2013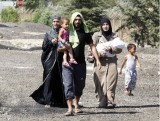 This is NOT a fundraiser.
Do you wonder how the current plight of Syrian refugees began? We will have a multimedia presentation about the history of the religious and political influences that have led up to the current struggle of over one million Syrian refugees. Childcare will be provided. We have no political, religious, or any agenda other than to inform. A group of us traveled to Jordan in 2012 to assist the Syrian refugees. In November of this year another relief effort is planned. For more information about the event call Melissa at (530) 277-7059.
Presented by The Center for Cultural and Naturalist Studies.