Linsey Aitken & Ken Campbell | Friday, November 7, 2014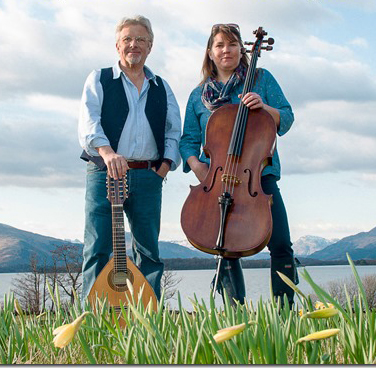 The highly regarded Scottish folk duo, Linsey Aitken and Ken Campbell, will be performing one of the best Songbooks in contemporary Scots acoustic music on Friday, November 7, at the North Columbia Schoolhouse on the San Juan Ridge.
Hailing from Loch Lomond, Aitken and Campbell are currently touring the West Coast — including a recent performance at Freight and Salvage — with music from a newly recorded album, "Kith and Kin". The duo incorporates lyrics, vocal harmonies, cello, guitar, Northumbrian pipes, piano, and laud into their performances with influences ranging from Celtic traditional music and contemporary song writing to classical, baroque and orchestral.
Aitken and Campbell have been hailed as a "welcome showcase of extraordinarily varied talents, strong yet sensitive singing, collected gems from old sources, and a canny ear for current songs from Scotland." Last year they drove 2,000 miles non-stop and had two days off at the end in San Francisco. This year they are enjoying more time to visit some of the friends they made last year while on tour. "What an incredible country you live in," said Campbell. "Such wonderful hospitality and interesting people — each with a story — as well as fascinating places and things to see."
Prior to the Friday evening show at the Schoolhouse, Aitken and Campbell will be performing live in the KVMR studio during Laurie DesJardins's radio show sometime between 10 a.m. and noon.
Aitken is a highly regarded cellist and vocalist crossing genres from classical to folk. Inspired by German cellist May Libersohn of the Scottish National Orchestra, she has studied cello and piano under leading international musicians, including cellist Anna Shuttleworth, harpsichord maestro Alan Cuckston, and virtuoso pianist Gusztav Fenyo.
Campbell is a singer-songwriter with a well-established pedigree. He has recorded five albums to date and has appeared in festivals, concerts, TV and radio throughout Europe, the U.S. and beyond. Campbell started with Glasgow band Molendinar. He then began a much-commended duo with Chris Miller.
In 2009, Campbell reformed "The Ideal Band" following in the footsteps of the original 1930s, Glasgow-based Bob Smith's Ideal Band. He subsequently toured with Cauld Wind Piper and Hamish Moore and has also worked with cellist and singer, Wendy Weatherby, Stevie Lawrence (Red Hot Chili Peppers) and Blair Cowan (Lloyd Cole & the Commotions).
In spring 2010, Aitken joined The Ideal Band to perform cello and vocals, and they subsequently toured Russia as a duo. Back in Scotland they organized major concerts at Edinburgh festivals and arts centers featuring the world famous Rostov Balalaika. Performing with guest musicians from Ghana, Ireland, and Scotland, they combined their music and songwriting with traditional music and dance from the Cossack region of Russia.
Their success with original material and multi-cultural shows has grown into the current tour through West Coast arts centers, theatres and other venues.
"We live on the banks of Loch Lomond and have a second home in Barga in North Tuscany mountains —the most Scottish town in Italy," said Campbell. "The West Coast is a place where we feel very comfortable."
Doors 7:00 p.m.
Show 8:00 p.m.
$15 advance/member, $20 door
———————————-
"What an amazing evening, creative, original music. An unmistakeable passion for what they do,
with words like the music.. poetic and painting a picture. ~ California/Oregon USA tour 2013
" Wonderful, your music truly unites people, fantastic ambassadors for Scotland, and very talented musicians.
What wonderful songs and music you've composed." —City Days Festival, Russia
"A simply beautiful sound, each song an absolute gem"" —Maverick
"Distinctive vocals and original songs, a smattering of trad.arr – distinctive flavours of 'cello." —R2 [Rock & Reel magazine]
"Absolutely gorgeous songs, see them live and enjoy an evening of great songs and music." —Amazon.co.uk review