Never Again! San Juan Ridge Taxpayers Association Benefit|Saturday, August 29, 2015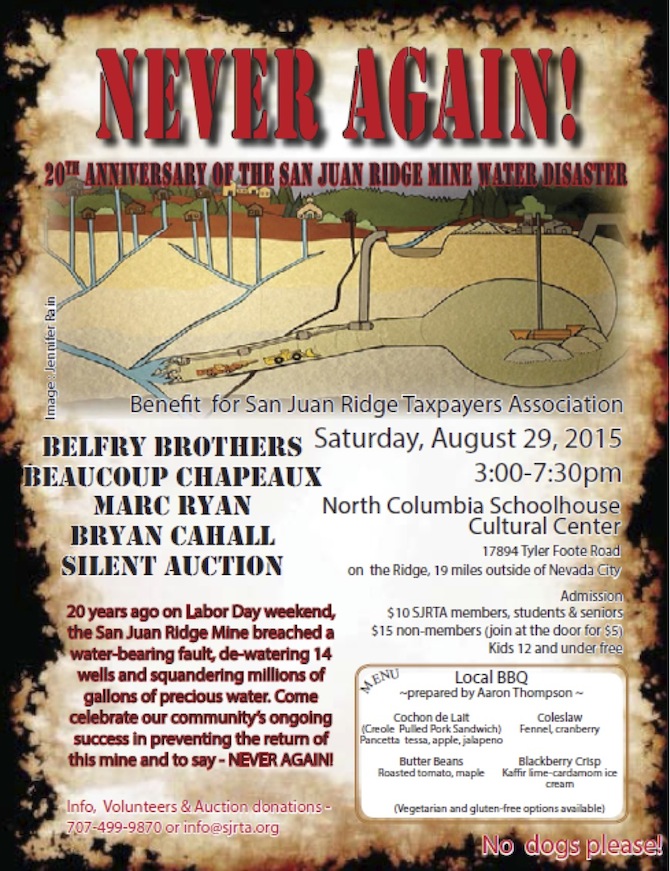 Nevada City, CA – 20 years ago on Labor Day weekend, the San Juan Ridge Mine breached a water-bearing fault, de-watering 14 wells and squandering millions of gallons of precious water. Join the San Juan Ridge Taxpayers Association (SJRTA) for our annual fundraiser and concert on Saturday, August 29 at the North Columbia Schoolhouse Cultural Center to celebrate our community's ongoing success in preventing the return of this mine and to say – NEVER AGAIN!
SJRTA works to protect our drinking water, schools, rivers and local economy, and it is time to celebrate our successes of the past three years. The San Juan Ridge Mine application is still active and we remain diligent in our work to stop this project. When in full operation, it is estimated the mine would require pumping up to 3.5 million gallons of water a day out of its underground tunnels. This, and the fact that the last time the mine operated in the 1990s local wells were impacted, has residents concerned that the mine threatens the community water supply again. Rapid discharge of water into Spring and Shady Creeks, tributaries of the South Yuba River, could introduce untreated water from the mine workings and damage amphibian and fish populations.
The August 29 benefit will feature a barbeque, silent auction and music from the Belfry Brothers, Beaucoup Chapeaux, Marc Ryan and Bryan Cahall. A delicious BBQ by chef Aaron Thompson will be featured as well. There will be a kids' area and children 12 and under are free, so bring the whole family to celebrate our community's strength and resilience in protecting the quality of life on the San Juan Ridge to enjoy great music and great food on a beautiful summer evening.