Fillmore Slim and Kyle Rowland Blues Concert | Saturday, June 22, 2013
Doors 5 PM for picnicking on the lawn
Show 7 to 10 PM
Food by Ike's Quarter Café and drinks will be on sale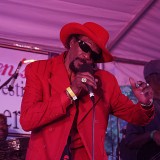 He refers to himself as the "O.G." and has been associated with great California blues artists such as Rick Estrin of Rick Estrin and the Night Cats, Joe Louis Walker, JJ Malone and Troyce Key of Eli's Mile High House. Guitarist and vocalist Fillmore Slim loves to get funky and lowdown, but can also turn a blues ballad just as easily.
On Saturday, June 22, Fillmore Slim — backed by the Kyle Rowland Blues Band — brings his blues-funk artistry to the North Columbia Schoolhouse Cultural Center in an evening amphitheater performance. If you dig the funkiest of the funky, soulful blues ballads, in-the-backstreets-of-town-low-down blues entertainment, Fillmore delivers all this and more. Dancing is mandatory. Actually, the audience can't sit down at one of Fillmore's shows.
A living legend, Fillmore Slim (born Clarence Sims) was born and raised in New Orleans, Louisiana in 1935. Fillmore says, "I lived in the country. I picked cotton. I plowed with a mule. I don't sing like no city bluesman. If you have really got the blues, you'll give your audience the blues."
He moved to Southern California in the mid-1950s where cats like Johnny Otis, Big Joe Turner, Johnny Guitar Watson and Floyd Dixon plied their trade in Watts and the jukes of the West coast. During this time Fillmore made a few recordings with "You Got the Nerve of a Brass Monkey" being his most successful. He met Etta James before she became the great blues diva in L.A. and they had a brief relationship (check out his fine, touching "I'd Rather Go Blind" on The Blues Playa's Ball, a dedication to Etta after she had been diagnosed with Alzheimers and other ailments).
During the late 1960s into the 1970s Fillmore Slim befriended budding teenager bluesmen Rick Estrin (Little Charlie and the Nightcats) and Joe Louis Walker (Joe Louis Walker and the Bosstalkers). He encouraged, mentored and supported these young aspiring blues lovers and is credited with being major influences on their pursuit to become great blues artists.
Fillmore Slim met the late Troyce Key, owner of Eli's Mile High Club in Oakland, California in the late 1980s. Key was impressed by Fillmore Slim's unique take on his music and recorded Fillmore's first album, "Born To Sing The Blues."
Since then Fillmore Slim has continued to record and perform in Europe and the U. S. He has eight cds to his credit, listed below. Additionally, he has appeared in the documentary, "The Godfather: The Real Fillmore Slim Documentary" (2012). Additionally, a movie about the life and times of Fillmore, "The Legend of Fillmore Slim," starring Snoop Dogg, who bears an uncanny resemblance to a younger Fillmore, is in the making.
With a stretch of the imagination, one could say that Kyle Rowland has been playing the harmonica since birth. When he was just a baby, his father put a harmonica in his crib, using it at first as a pacifier.  Kyle's first memories of playing the harmonica are when he would sit alongside his father and listen to him play the harmonica for fun. One day, when Kyle was 10 years old, his father heard harmonica music coming from the front yard. He went outside and was surprised to find Kyle playing the blues.
In May of 2004, Kyle was sitting in front of a stage during the Sacramento Jazz Jubilee, listening to "Mick Martin and The Blues Rockers." The interested young man quietly played along on his harmonica and when Mick heard Kyle playing, he asked him to join the band on stage. This was the beginning of Kyle's venture with the blues. Shortly after the festival, Kyle began taking lessons from Mick Martin. Kyle felt privileged to have learned from Mick who is known as one of the best blues harmonica players in Northern California.
Since that day in 2004, Kyle has played with blues greats such as James Cotton, Hubert Sumlin, Norton Buffalo, Roy Rogers, Tommy Castro and many others. Kyle has performed at the Sacramento Jazz Jubliee since 2004, at the California State Fair since 2005, and at various other festivals in California & Nevada, including the popular Monterey Blues Festival.
He released his first CD in October 2009, titled, "Kyle Rowland, Messin' with the Kid: A Tribute to my Blues Heroes." That same year, he also received the Blues Harmonica Player of the Year Award and Blues New Artist of the Year Award from the West Coast Blues Hall of Fame.
To enhance this blues extravaganza, Ike's Quarter Café will be serving food prior and during the show. Come early to savor some organic creole cuisine and stay late to dance to the blues.