Holiday Craft Faire | Saturday, December 7 & Sunday, December 8, 2013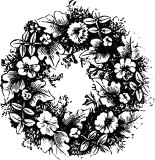 WEATHER STATUS: As of 6:00 PM Friday evening, we are still planning on having the doors open on Saturday. We have gravity fed water, a plow for the parking lot, and a back-up generator lined up. Please call (530) 265-2826 ext. 1 for updates in the morning. We'll communicate as best as we can! Be safe!
This Holiday Season favorite returns to the historic hall of the North Columbia Schoolhouse. For two days from 10 a.m. to 5 p.m., local craftspeople will feature their wares to meet all of your shopping and gift needs.
And the Craft Faire Café will be open as well! Yummy soups, desserts, and other treats will be for sale in the back room.
Craft Faire Vendors include:
Paul Steege (pottery)
Jayne Brown (woven goods and cards)
Robert Kahl (glass sculpture)
Linda Rose (ceramics)
Schuyler Ellers (woven pants)
Summer Thompson (silk art)
Deborah Savoy (soaps)
Izzi Tooinsky (juggling toys)
Karen Hinrichs (paintings and prints)
Penny St. Claire and George Schroeder (pottery)
The Ridge Tapestry Project (cards and posters)
Beryl Moody (woven goods)
You Bet Farms (wreaths and farm goods)
Pam Saporta (beadwork and leather)
Bill Walker (jewelry)
Diane Walker (sewed goods)
Mona Lovere (pottery)
Dale Mansfield (knives)
Pascale Berardi (knitted goods)
Hank Meals (photographs)
Martha Jones (mosaics)
Tessa Foxly (beeswax candles)
Margo Cooper (medicinal salves and creams)
Molly Jochem (paintings)
Samantha Hinrichs (calendars and tools)
Ruby Turple (farm goods)
Reed Hamilton (grains)
Jeanette Paganetti (stuffed dolls)