Summer Kids Art Camp | July 28 to August 1, 2014
The 8th Annual Art Camp for Kids will be held at the North Columbia Schoolhouse Cultural Center on San Juan Ridge and is open to children ages 5 to 11. This year's theme is India.  This is a unique opportunity for children to learn new ideas and skills from professional, working artists in a fun and supportive environment and includes classes in theater, music, ceramics,costumes and sets, and dance. Click here to register online, or download the registration form and mail in to NCSCC, Attn: Art Camp, 17894 Tyler Foote Road, Nevada City, CA 95959.
Financial assistance is available.  For more information about teachers, schedule, and tuition for this year's camp, please call 530-265-2826 or email ncscc@nccn.net.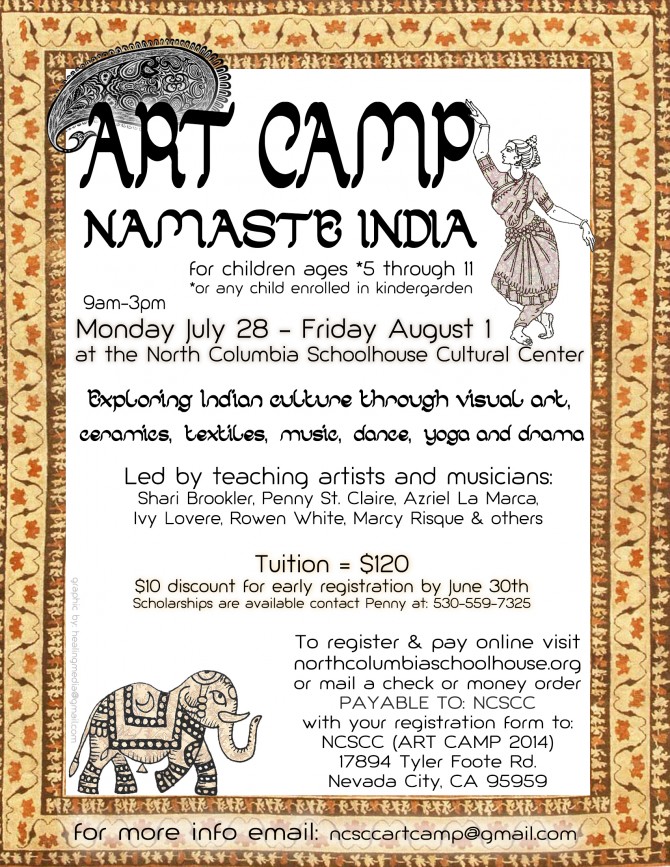 Penny St. Claire is an artist and teacher with many years of experience teaching art and ceramics to adults and children. She began her studies at CSU Long Beach and the San Francisco Art Institute in the 1960's. She has a BA from CSU Chico and a Masters in Education from Concordia University. In her Four Winds Studio at Willow Springs in North San Juan, California she divides her time between teaching art to adults and children and creating her personal work, a wonderful variety of hand build ceramics infused with her love of form, color and pattern.
Azriel LaMarca began dancing at 4 years old, and studied first ballet, then modern dance and improvisation throughout high school, college, and professionally. She teaches locally and creates and performs new work with her dance partner, Shari Brookler. Azriel teaches a dance class for kids that emphasizes creative expression through structured explorations, integrating the body and the brain.
Marcy Risque completed her yoga teacher training with Sarah Powers in 2000. Between 1996 and 2004, she taught yoga in the Bay Area to employees of the Sierra Club and the Mill Valley Public Library, and taught public classes at the Mill Valley Community Center. After relocating to the Foothills in 2004, she taught for a year at the North Columbia Schoolhouse, and has been teaching at the Yo'Garage for the past three years. Along with her experience teaching yoga to adults, Marcy has also taught yoga and dance to children, first ballet classes in the Bay Area, and later modern dance classes at Nevada Union High School and creative movement at Grizzly Hill School. She has also worked with students at the Ananda Living Wisdom School and the Camptonville School. This is her first year teaching at Art Camp.
Amano Avanna Ena has a MFA in Theater and is a Certified Yoga Teacher. She has taught theater in the public schools in Maine, though the OUTREACH program; and she designed and taught a theater program to the inner city school children in Oakland through the GATE program. She welcomes the opportunity to continue to give back to a community that gave so much to her.