Art Camp 2013 | July 29 to August 2, 2013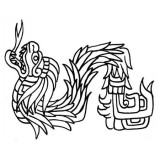 This will be the 8th year of North Columbia Schoolhouse Cultural Center Art Camp. The working artists who teach each year are dedicated to promoting creativity, collaboration, and understanding of diverse cultures through the visual and performing arts and storytelling. Mexican art and culture will be this year's focus for artistic explorations. Quetzalcoatl follows last year's Dragon as the symbol for Art Camp 2013.
Art Camp will take place the week beginning Monday, July 29, and conclude with a performance and picnic on Friday, August 2. The camp day will begin at 9:00 A.M. and conclude at 3:00 P.M. Children beginning kindergarten this fall and children through age 11 are eligible to attend. For the first, time online registration is possible. The regular cost will be $120 for the week with an early registration price of $110. Scholarships are available. As always, donations to the scholarship fund are needed and welcomed.