A night of Poetry
The North Columbia Schoolhouse Cultural Center presents California's favorite poets:
Will Staple and Chris Olander
to read new and favorite works on Friday, December 15th at 7pm.
10$ in advance or members, 12$ at the door~ Buy tickets here :

---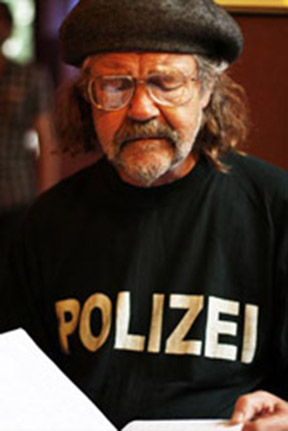 Will Staple lives in a kerosene-lit cabin, miles off any paved road, in the northern California foothills. He grew up in Oakland under the shadow of the Beats and attended UC Berkeley during the Free Speech Movement. From 1970 to 1995 Will published over 200 poems infused with the Grand Canyon and mountain forests on the sassy, sexy side of spirituality, filled with a sly humor, condensed form, depth of content, detailing the culture that left the cities in the 1970's for a more archaic path with a heart.
Will's work has been translated into Russian, German, and Italian. He has received the Engpol Median International Award for a collection of books. He has read from the coffeehouses of San Francisco to Shakespeare & Company in Paris, and was a featured reader at the Internazionale Percorsi Poesia Festival in Locarno, Switzerland. He is a long-time poet teacher with California Poets In the Schools.
His books include: Passes for Human, Coyote Run, I Hate the Men You Sleep With, The Only Way to Reduce Crime Is to Make Fewer Acts Illegal, Dr. Montoya's Medicine and The One That Got Away (Six Ft. Swells Press, 2008). He also performs regularly in Europe, where his work is published by http://Engstler-Verlat.de/ His latest collection (in English) is Arrows Go Thru Hearts: Selected Poems: 1970-1995 (Six Ft. Swells Press, 2017).
---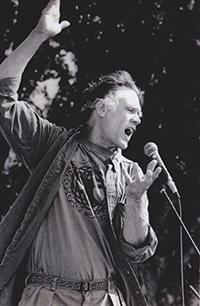 Poet
Chris Olander

, poet, teacher and bio-educator with California Poets

in the Schools since 1984, blends performance techniques with spoken word

to create an Action Art Poetry: musical image phrasing to dramatize

relative experiences–a poetry arising from oral and bardic traditions.

"I am a sound poet exploring various meanings of words, phrasing and ideas

arranged in sound and rhythm patterns."
Chris will be reading from his recent published full length poetry book
"River Light" published by Matrix Press in October, 2017. The poems
examine the relationships of humans in the Sierras in regard to the rivers
and landscapes and all species and the reverence of water and its beauty
and necessity in our lives.